Anti-Foul Removal using Dry Ice Blasting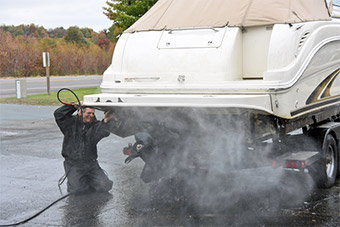 Dry Ice Blasting provides a quick, safe and non-toxic method of cleaning anti-foul from your boat.
Our fully mobile service team can come out to you and blast clean your boat using gentle and non-abrasive dry ice blasting, which removes anti-foul without damaging the hull, leaving the gel in perfect condition.
Dry Ice Blasting is environmentally safe, meaning your boat doesn't have to be sealed off for cleaning and no nasty chemicals end up in our waterways.
For affordable and effective anti-foul removal, call the experts at Melbourne Dry Ice Cleaning on 0411 523 763.
Contact us