Dry Ice Blasting for Manufacturing Plants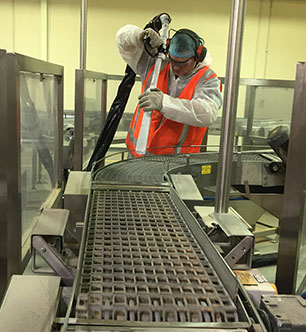 Manufacturing and plant operators can rely on our team to expertly and efficiently clean manufacturing equipment using chemical-free and non-abrasive Dry Ice Blasting.
Dry Ice Blasting provides a superior industrial clean, removing dirt, bitumen, grime, grease & oil and food build-up without harming even the most sensitive industrial equipment.
Faster clean, less downtime
Quicker and more efficient than traditional industrial cleaning solutions, with dry ice cleaning there's minimal downtime for your machinery and no post-cleanup, saving you time and money.
Not only is cleaning with dry ice is more effective than traditional cleaning solutions, it is environmentally safe and chemical free, making it ideal for food manufacturing plants. It's also a non-conductive media which is safe to use on electrical equipment.
We provide dry ice blasting cleaning services to large and small manufacutring plants, across a range of industries including:
Food manufacturing
Printing
Automotive
Electrical
Contact Melbourne Dry Ice Blasting today by calling 0411 523 763 and speak with an industry expert who can choose the best cleaning solution for your plant equipment.
Contact us