Dry Ice Blasting Melbourne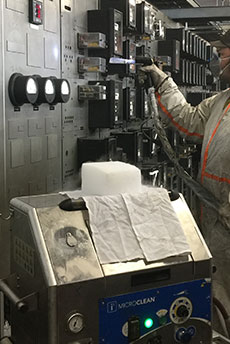 Dry Ice Blasting provides a superior clean, removing dirt, bitumen, grime, grease & oil and food build-up without harming even the most sensitive underlying surface or equipment.
Gentle but effective, Dry Ice Blasting is a safe, non-toxic and environmentally friendly cleaning method that is ideal for cleaning a range of surfaces, including:
Food manufacturing equipment
Automotive equipment
Buildings damaged by smoke and soot
Printing equipment
Mould removal
Restoration of old bricks
What is Dry Ice Blasting?
Instead of using hard abrasive media to grind on a surface (and potentially damage it), dry ice blasting uses soft dry ice, accelerated at supersonic speeds, and creates mini-explosions on the surface to lift the undesirable item off the underlying substrate.
After the blasting process, the dry ice melts away, leaving no secondary waste to clean-up and dispose of.
Dry Ice Blasting is a non-toxic and environmentally friendly media, meeting USDA, FDA and EPA guidelines.
Call the experts
Melbourne Dry Ice Blasting has been performing specialised blasting services for Melbourne businesses since 2009. Our expert team can advise on the best cleaning method for your site, project and surface.
Call us today for a quote.
Contact us for a quote