Sand Blasting (Garnet Blasting)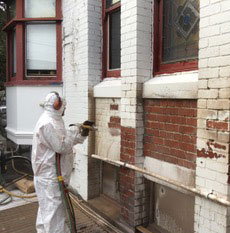 Sand Blasting is an abrasive blasting method ideal for cleaning steel, including removing rust and paint. Sand is no longer used as an abrasive cleaner and it is now known as Garnet Blasting.
Garnet blasting (sandblasting) is ideal for:
Surface preparation of steel, stainless steel and cast iron for painting
Rust removal
Paint removal
Building Restoration – cast iron lacework, fences and gates
Automotive – car bodies and parts
Excavation equipment
Trucks, Trailers and Semi-trailers
Shipping containers
Garnet abrasive is a sandblasting material derived from gemstone. Safe and non-toxic, garnet is more effective and environmentally friendly than sand, which is no longer used in blast cleaning due to OH&S concerns.
Sandblasting is a blanket term covering Abrasive Blasting. We advise on the best blasting technique for your specific needs – Sand Blasting, Garnet Blasting, Glass Blasting, Plastic Bead Blasting and Soda Blasting.
With a mobile service, our professional team of applicators are ready to come to your factory, industrial site, home or location around Melbourne.
Contact Melbourne Dry Ice Blasting today by calling 0411 523 763 and speak with an industry expert who can offer the best cleaning solution for your project.
Contact us